Barren Land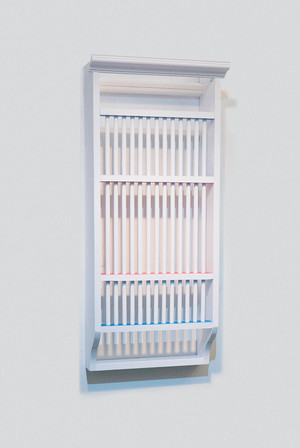 Abstracting the colonial windows of his native Colombia, artist Pedro Mesa tackles the notion of identity-pastiche, both nationally as well as personally. With his constructions, he is addressing the windows with their bright hues and distinctive shapes, which are not idiosyncratic in their originality, but a derivation or emulation of Spanish architecture and the combination of styles found in the balconies and windows found all over the Mediterranean. There's a crisis here – a crisis in the very notion of the colonized subject. The colonized can only be that, inasmuch they can recognize their colonizer.

"The snobbism of my generation, the constant hounding for first-world entertainment over our local culture, the desire to belong to another community outside of ours," says Mesa, "A hapless parallel with the stories behind these windows – there's no Spanish 'illustrious ancestor' to be found, but a recycling of ideas of national unity and periphery." Confronted with these windows as a mask, a colorful distraction, they open up to a vagueness of Mesa's place in the world.

"What I ask of myself is to just look through the railings: into a gnawed interior made up by shadows, husked walls that every night put their make-up on and walk the city to sell themselves. Falsehoods that leave no room for the intimate; whiny colors that fake a feast where no music is playing." says Mesa, "There's a sadness to my country. A feeling of sterility, of lost opportunities and opportunities dead. Not of albatross, but of limping sparrows and blind condors. A country where a seagull will eat a drowning moth."

September 5 - October 19, 2019
HERE Art Center (145 Sixth Avenue, New York, NY)

(image: Limping Sparrows, 2016, acrylic polymer on wood)
---
Queer as I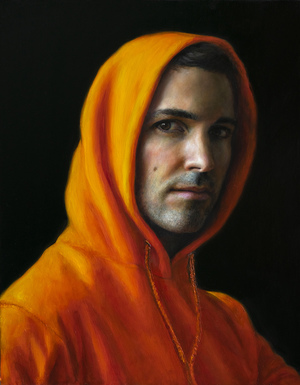 HEREArts proudly presents Queer as I at HERE Art Center (145 Sixth Avenue) from May 2 – June 30, 2019, Tuesdays through Friday, 2 – 7pm. Weekend visits available upon request.

The exhibition is comprised of 50 self-portraits from different artists, one portrait for each year since the Stonewall riots. The exhibition will highlight the power and diversity of the LGBTQIA+ community and shine a light on their visibility.

"On the eve of the Stonewall riot's 50th anniversary, queer visibility has never been more important," say curator Dan Halm, "From the time the first brick thrown on that fateful night in Greenwich Village, the fight for equality continues. Being unabashedly out and proud is still a radical idea to some people. But it is those unapologetically queer individuals brave enough to be themselves, who have made society more accepting of the queer community at large."

The artists in this exhibition offer a glimpse into their lives, their loves, and the power of just living their authentic selves. The work features an array of photographs, paintings, sculptures and mixed media portraits. "What I love about this grouping of 50 artists is how diverse they are; whether that be where they are in their career, their age, their experience or geographical location," says Halm, "It's a beautiful mix of artists who inspire me and speak of the queer experience authentically."

The artists included: Jonathan Kent Adams, Marc Adelman, Mickey Aloisio, John Arsenault, Alexander Asbell, Jonathon Beaver, Matthew Bede Murphy, Chris Berntsen, Justin Vivian Bond, Vivian Chiu, Greg Climer, Andrew Criss, TM Davy, LaQuann Dawson, Shari Diamond, John Dugdale, Leah DeVun, James Falciano, Nadine Faraj, Joe Hepworth, Hannah Hiaasen, Logan Jackson, Mia Krys, Scooter LaForge, Zachari Logan, Emily Lombardo, Peter Macaulay, John MacConnell, KC Crow Maddux, Sean Basil McGiver, Patrick McNabb, Daniel Morowitz, Cobi Moules, Ruben Natal-San Miguel, Catherine Opie, Stiofan O'Ceallaigh, Cupid Ojala, Matthew Papa, Hermes Payrhuber, Michael-Birch Pierce, Jack Pierson, Antonio Pulgarin, Ryan Pfluger, Brandon Roberts, Chad States, Richard Stauffacher, Jeffrey Teuton, Meg Turner, Rachael Warner, and Charlotte Woolf.

(image: TM Davy, Self-Portrait in Orange Hoodie, 2019, oil on linen)
---
Pop of Color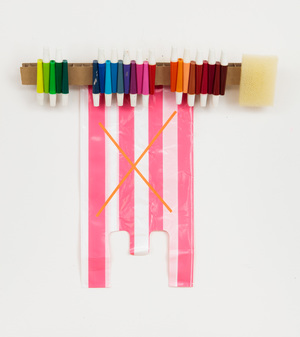 Pop of Color highlights the power of color which at times pops, sizzles, dazzles and dominates. The artists involved in this exhibition are masters of manipulating and highlighting our relationship with color.

The show includes the work of Matthew Keff, Ken Lavey, Adelha Lee and Miranda Thorne Pierce.

March 31 - July 14, 2018
HERE Art Center (145 6th Avennue)

(image: Miranda Thorne Pierce, Grandpa's Markers, 2017, mixed media)
---
hopes springing high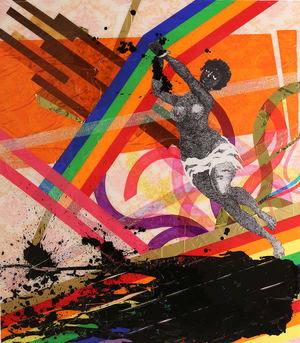 Defiantly faced and confronted with their own American history, "hopes springing high" sheds light on slavery by using personal narratives and historically researched significances, while confronting the viewer with the United States' violent past, troubling present, and uncertain future as attacks on black culture, black bodies, and the continued institutional suppression of "otherness" continues virtually unabated.

The show includes the work of Delano Dunn, Mary Edwards, Nona Faustine and Anders Jones.
March 6-12, 2018
SPRING/BREAK Art Show (4 Times Square)
Room #23357
(image, Delano Dunn, A Brief Moment, 2017, paper, Mylar, cellophane, vinyl, shoe polish and resin on board)
---
No Tomorrow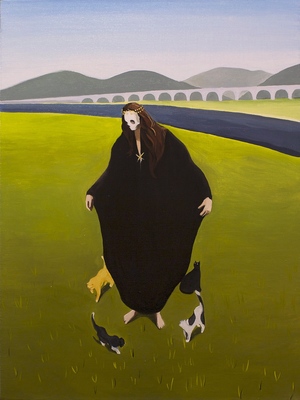 Death is inevitable. Every living thing meets its demise at some point. Different cultural customs have been developed to honor and mourn the dead – some elaborate and ornate, while others somber and contemplative, and even sometimes jubilant and joyous. The artists involved in "No Tomorrow" investigate and embrace the beauty of death as a movement for rebirth, contemplation and facing the infinite stillness.

The show includes the work of Katina Bitsicas, Sean Capone, Laura Murray, Richard Stauffacher, Tony Toscani, Conrad Ventur and Kimberly Witham.

September 7 - October 28
HERE Art Center (145 6th Avenue, New York, NY)

(image: Tony Toscani, Cats Circling Around a Woman, 2017, oil on linen.)

---
Abstract Communication
The artists in "Abstract Communication" each use a unique method of communication with startling results: from the simplicity and beauty of Morse code, to the immediacy of Google maps and the proliferation and dominance of the ever-present 'selfie' culture. Faced with multiple ways to communicate with one another, are we sending the right message? Or just getting lost in translation?

The show includes the work of Kat Chamberlain, John Chang, Rick Herron, Scott Hug, Amy Richards, Jeffrey Teuton and Quinn Tivey.

March 16 to May 6, 2017
HERE Art Center, 145 6th Avenue, New York City

(image: Rick Herron, Suffering Pond, 2017, archival pigment print.)
---
Unearthed - Artforum's Critic's Pick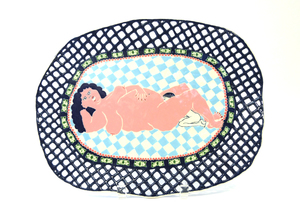 Unearthed
Co-curated by Geo Gonzalez and Dan Halm
March 25-May 21, 2016
ROCKELMANN&, Berlin, Germany
UNEARTHED runs parallel to our digital era. We are constantly reminded of our concerns about concealing our identities and our personal information from systematic surveillance. UNEARTHED hacks into this system and leaves behind its traces in it. The viewer gets a glimpse of these traces through human effects on material. UNEARTHED is undoubtedly built from the human touch; its DNA is impossible to hide. UNEARTHED is present, visceral, and real.
UNEARTHED takes inspiration from past rebellious groups of artists who founded the outsider ceramics movement such as Kenneth Price, Jerry Rothman, and John Mason. In the 1950s, abstract expressionist clay sculptures merged the divide between craft and the fine arts movement, often coined as 'total freedom.' Howard Kottler also paved the way for controversial ceramic art in the 60's and 70's. He has been described as "setting the stage for the new genre of in-your-face clay." UNEARTHED honours this history but also allows the viewer a rare chance to see the emergence of new names and works.
(image: Katy Stubbs, David Buys Golitha's Body for One Night of Passion, 2015, ceramic)

---
FiveSixSevenEight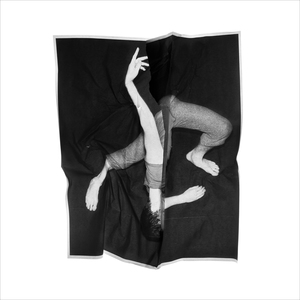 The rhythm, the synchronicity of motion, music pulsating, undulating, bodies contorting. Dance continues to inspire and motivate artists and vice versa; this relationship between the two art forms has a rich historical significance, most notably Degas and Toulouse-Lautrec. This perfect marriage between the two art forms allows viewers to experience the power of dance, the vehicles for expression, the motivation of collaboration and the grace and beauty of it all.
The show includes the work of Nir Arieli, Glenys Barton, Tad Beck, Dana Bell and Rachel Papo.

August 20 - October 10, 2015
Here Art Center, 145 Sixth Avenue, NYC

(Image: Tad Beck, Double Document – Neal Beasley 1, 2013, Ultrachrome print, edition of 3.)
---
Bibbidi-Bobbidi-Boo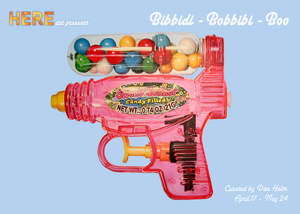 I like art with a little bit of a bite to it, just make sure it's sugarcoated. The artists selected for this exhibition on the surface present cheery, candy-colored images but look a bit deeper and you'll notice they are tackling darker, and in some cases sad themes of love, family, and self doubt.

The show includes the work of Matt Bucy, Brandon Davey, Colleen Ford, Katya Grokhovsky, Scooter LaForge, LJ Lindhurst, Gregg Louis, Tawnie Silva and Richard Stauffacher.

A spoonful of sugar definitely makes the medicine go down, in a most delightful way!
April 17 - May 24, 2014 (Here Art Center, 145 Avenue of the Americas, NYC)

(image: LJ Lindhurst, Magenta Sweet Soaker, 2013, acrylic on canvas)

---
Summer Camp II: Like a Moth to the Flame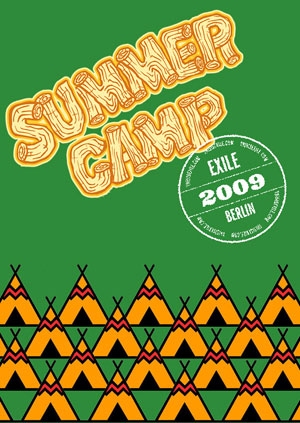 As part of the Summer camp series, I will be curating a show of work based on images and bodies of work that I am immediately attracted to without a second thought and in many of the cases became aware of via the internet.

July 11 - August 8
Opening Reception: August 1, 6-10pm
Music by Trevor Lee Larson & friends

Artists participating in the exhibition are Steven Bindernagel, Christophe Chemin, Christa Joo Hyun D'Angelo, Patrick Giglio, Zachari Logan, Charlotte McGowan-Griffin, John Monteith, Augustus Nazzaro, Hermes Payrhuber, Robert Schatz and Jonathan VanDyke.
---
The Pleasure Seekers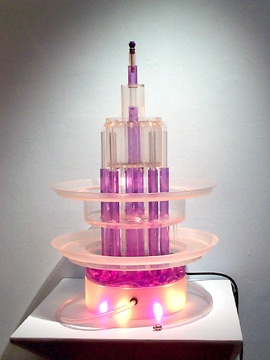 Chashama is pleased to present The Pleasure Seekers, an exhibition of work based on the quest for carnal delights that ooze with both sexuality and vitality, curated by artist, curator and writer Dan Halm.

What is a pleasure seeker in 2009? In a culture embroiled in war and facing economic distress, one tends to look for a way to escape worry and pain, hence the birth of a pleasure seeker. Hunting out hedonistic desires –sexual freedom, drugs, alcohol and the pursuit of free love – allows one to enjoy life and rediscover hope.

Artists including in the exhibition:
Baishian Bai, Michael Bilsborough, Andrew Criss, Eric Doeringer, Marianna Ellenberg, Karlos Carcamo, Patrick Giglio, George Harvey, Christa Joo Hyun D'Angelo, Cesar Chavez Lechowick, Jesse Finley Reed, Chad States

Th exhibition runs until April 25, Wednesday-Saturday 12-6pm

(image: Eric Doeringer, Untitled (Purple), 2002, mixed media)
---
Skin Trade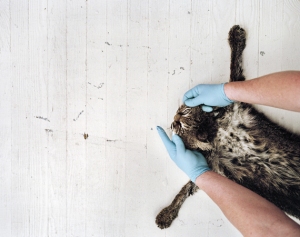 Chashama is pleased to present Skin Trade, an exhibition of work based on man's relationship to animals as decorative trophies; the beauty of the natural world in an artificial setting; and our own arrogance in pertaining to the animal kingdom.

Why are we compelled to capture and preserve our killings? Is this man's need to feel superior over the animal kingdom? Or is it a way to capture a moment in time, between hunter and prey? A way to celebrate one's hunting accomplishments or simply a way to preserve what once roamed the Earth?

Featuring the work of Elaine Bradford, Simen Johan, Eric Lendl, Christian Siekmeier, Amy Stein and Kimberly Witham.

The exhibition runs from October 30 - November 22, 2008.

Chashama ABC, 169 Avenue C

(image: Amy Stein, Pelt, 2004, digital C-print)
---
And So On... A Curatorial Project in Groups of 100
I got to thinking about if there is any correlation between inspiration and the network of artists who we choose to associate ourselves with. Which got me thinking about networking, which then reminded me of that old Breck shampoo TV commercial where "she told two friends, and so on and so on...". Hence the birth of this curatorial project.

Each artist selected to partake in this project invites two additional artists until we reach our core number of 100. Then the game starts all over again.
---
Click Chic: The Fine Art of Fashion Photography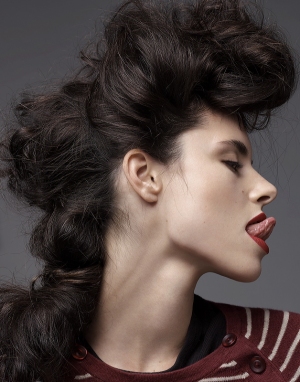 This past September at the Visual Arts Museum, I curated a show of six brilliant fashion photographers (Roderick Angle, Guy Aroch, Maki Kawakita, Ryan Michael Kelly, Chiun-Kai Shih and Sarah Silver). Elle Magazine called the exhibition "the must see fashion photography show of the fall."

Visual Arts Musuem at the School of Visual Arts
September 6 - October 6, 2007

(image: Sarah Silver)